HB Global, Acquires Arizona-Based Plumbing Company, Nash Mechanical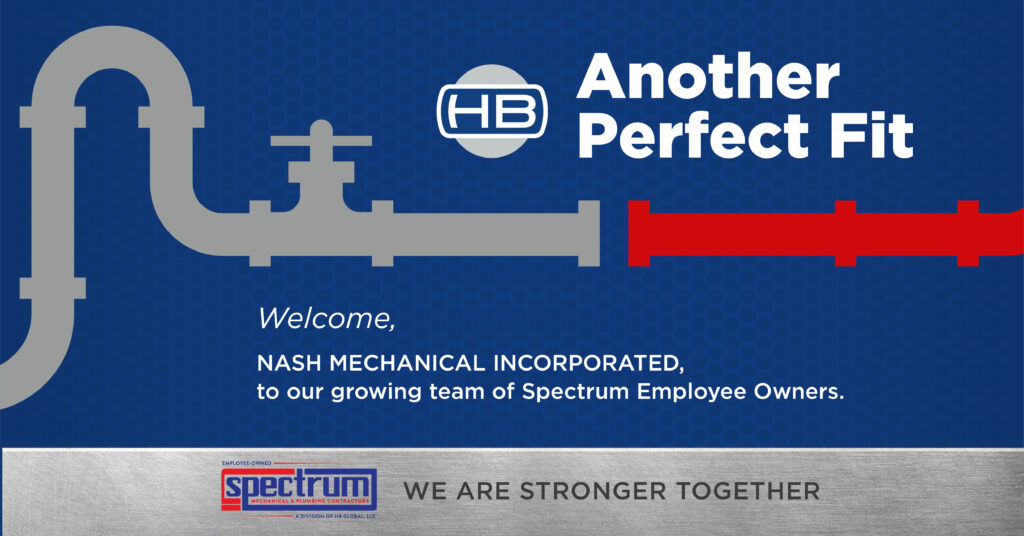 HB Global, LLC, Central PA's #2 fastest growing company, has announced that it has acquired Nash Mechanical, a Phoenix-based company. Not only is Nash Mechanical a trusted and respected plumbing organization, they, also, represent HB Global's core values. They have no relation to HB Global's two companies, William R. Nash Mechanical or Nash Plumbing & Mechanical.
Nash Mechanical will merge with Spectrum Mechanical & Service Contractors, LLC, and become part of HB Global's Spectrum Mechanical's brand, renamed, Spectrum Mechanical & Plumbing Contractors, LLC. Spectrum will now be a full-service plumbing and mechanical division.
According to Sal Bauccio, COO of Commercial Operations for HB Global, Jason Nash is an employee centric leader with a team and growth mindset. Additionally, the newly acquired plumbing division employees have the grit and positive attitude that will continue to make Spectrum a great place to work. They will, also, become HB Global employee owners.
"Our mission is to empower our employee owners to make this a great place to work and create value. This bolt-on acquisition supports our mission, our core values, and is another step toward increasing our ESOP share value," said Bauccio.
About HB Global
HB Global, LLC, is based in the city of Harrisburg, PA and is proudly employee owned. HB Global is the parent company of HB McClure and IT Landes in PA, Nash Plumbing & Mechanical in FL, North Shore Mechanical Contracting in MA, Spectrum Mechanical in AZ, and HB Home Services in the Mid-Atlantic. Collectively, the HB Global family of businesses offer design/build, installation, and service for HVAC, plumbing, and electrical. They serve residential, commercial, and industrial clients.
For more information about HB Global, visit www.HB-Global.com.