Restructuring Commercial Construction & Prefabrication Update
IT Landes is an HB Global division located in Harleysville, PA, north of Philadelphia. Multi-family and senior living has been the company's specialty but the goal of the restructure is to be able to take on larger, more complex commercial projects and expand their presence in new markets such as healthcare and industrial projects.
IT Landes previously leased a smaller prefab shop down the road from their office that contained a couple employees that would help build material for jobs to expedite job schedules. With the goal of expanding into larger and new markets, there was a need to add additional employees to the team and move into a larger prefab shop. IT Landes decided it would be best to remodel an existing building on the property to make way for a bigger prefab shop and to keep everything on site.
Below you will hear from VP of Preconstruction, Pat Landes, and VP of Commercial Construction, Ken Paul, as they describe the need for change in the fast pace industry of commercial construction.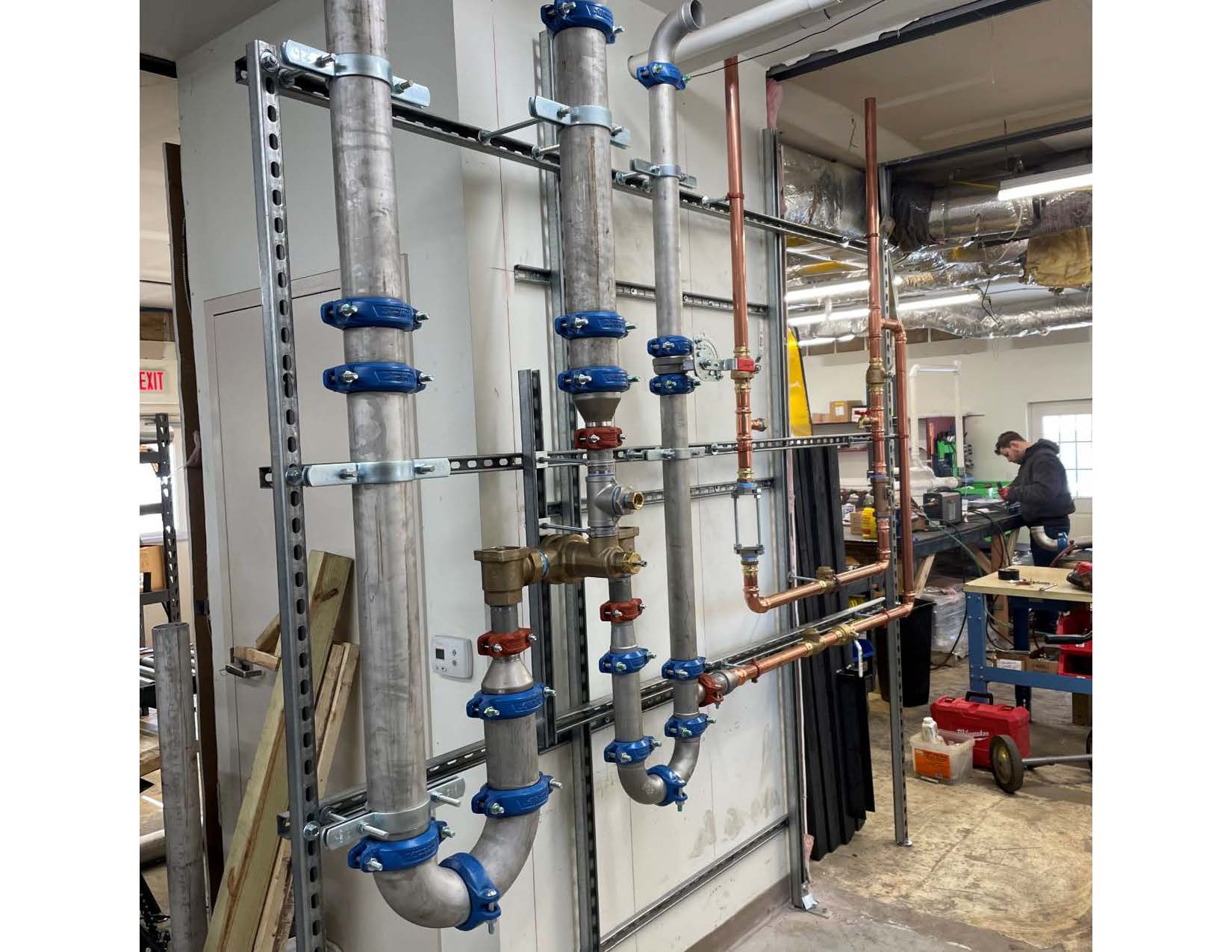 Prefabrication

"As part of our restructure this year at IT Landes, we found it essential to create a local prefab team to contend with the daily struggles of skilled manpower, condensed or accelerated schedules, while upholding our level of quality.  Since this team was created, they have hit the ground running working on various projects and exceeding expectations.  The Prefab team consists of Micah Swartley, Prefab Manager, who is a 20+ year employee and brings years of hands-on technical knowledge, Jake Franklin, started in November of 2021 and brings construction experience including welding and fabricating, and Mike Hoffman who has been training in the shop since May of 2022.  The three-person team has been doing great things and we can't wait to see what they will be able to fabricate next.  A few key roles contributing to the success of the Prefab department is the engineering department with the coordination, especially Justin Stultz, who has been leading the team with spool and 3D drawings. Also, would like to thank the Project Mangers for buying into the process and helping supply this team with work to keep fabricating."

A few projects recently completed by the team

Logan South – Had a quick turn around on (33) – 12' by 7' curb blocks for our HVAC team.
1,625 Shower/tub diverters for numerous jobs
Underground plumbing for Amazon warehouse, Phoebe, Arbour Square- Cinnaminson and Meadowood Memory Care
Mechanical room Piping for 250 KOP, Linden North and South buildings, Meadowood Memory Care
Strut racks for numerous jobs
Water closet Carrier racks for numerous jobs
Fit and tacked up weld pipe for Special Projects hydronic pipe jobs
Painting vents for HVAC due to long lead times on factory painted ones
Built shelves for Heat Pumps for special projects
Commercial Construction

"As part of the vision for IT Landes, we took time to evaluate the previous structure of our operations, which was made up of one mechanical and one plumbing department. After careful consideration, we decided that restructuring by combining these two departments into one, would be the best approach to building up our large commercial/industrial construction capabilities. We embarked on this structure change at the beginning of our current fiscal year. By combining departments, we believe this action will play a pivotal role in our team becoming a viable option for clients and general contractors looking for a one stop shop with all necessary skills to meet the demand of large complex projects in our geographic area. The pool of available contractors in this market in our service area is relatively small. We believe this will create additional opportunities for our growth as a company.

This change required us to take a close look at what our previous construction staff job descriptions required. We needed to make changes to the job descriptions to meet the demands and expectations of a contractor working on large construction projects. The development of these job descriptions identified a need for us to create an additional level of project oversight to allow our Project Managers to fully invest the appropriate amount of time in the administrative requirements of our projects, more specifically, large multi-year projects. This led to the creation of our new Field Superintendent positions, which has been a significant change to how our operations team functions. The primary responsibility of our new Superintendent role is working with our field teams to oversee the safe, efficient, and quality installations on our projects while protecting and promoting the values of our company culture.

We would like to recognize all the energy and flexibility that our commercial construction team has shown in this process. Our project managers are now overseeing the administrative requirements and teams for both the plumbing and mechanical needs of their projects. The superintendents are adapting well to the demands of their roles that require visiting multiple sites within the course of a week. They are adjusting to the requirements of actively assisting in resolving challenging issues that can occur on various projects at one time. Our administrative teams have also been working diligently to combine and improve the many differing protocols and processes that occurred across both departments. In addition, our field staff has shown tremendous amounts of flexibility in working together as one team.

As we continue to work through a structural change of this magnitude, we continue to remind and encourage each other that this type of change will take years to fully implement. The efforts that our team has put forth speak volumes about the desire of our employee owners to see our company continue to be known as a great place to work and be successful long into the future."