What a difference a decade of employee ownership can have on the growth trajectory of a company.
Ten years ago, Harrisburg-based heating, ventilation and air-conditioning company HB McClure made the move from private, family-owned business to 100 percent employee-owned.
The transition to an Employee Stock Ownership Plan, or ESOP, helped fuel rapid expansion, including 19 successful acquisitions and the 2017 formation of HB Global, LLC, a parent company created to support the brand portfolio and drive growth strategy.
As a result of that aggressive growth, HB Global closed out the decade with four operating divisions along the East Coast, including HB McClure and IT Landes in Pennsylvania, Nash Plumbing & Mechanical in Florida, and North Shore Mechanical Contractors in Massachusetts.
At the start of 2020, Arizona-based Spectrum Mechanical & Service Contractors, LLC was acquired and became the fifth division, further diversifying HB Global's geographic footprint and expanding its commercial HVAC service capabilities.
Read on to learn more about our continued success and key priorities for growth in 2020 and beyond.
A Year of Highlights
In 2010, HB McClure was a $25 million company. As HB Global has made acquisitions to expand our construction and service brands across more industries nationally, annual revenue has surged.
With the addition of North Shore to the HB Global family in 2019, HB Global cracked $200 million in revenue for the first time, finishing the year with $218 million. That growth not only has enhanced share value for our employee owners, it has helped create new jobs for skilled workers and promotion opportunities across the family of brands.
In addition to workforce growth within each operating division, HB Global's acquisitions team expanded to four people last year with the hiring of Megan Reapsome as Project Manager of Integration.
Due to the company's steady acquisition growth, we also made the decision in 2019 to reevaluate our current operational structure. Our long-term objective is to operate our commercial and residential businesses separately to create a better working environment for our employee owners while providing the highest level of service to our customers.
Giving back to our communities also remains a top priority for all of our brands. We did that in a variety of ways last year.
At IT Landes, the team supported donation efforts for organizations like Laurel House, a comprehensive domestic violence agency. HB McClure contributed a variety of youth activities, including Junior Achievement and Girls on the Run, while collecting coats and blankets for the community, as well as toys for children over the holidays.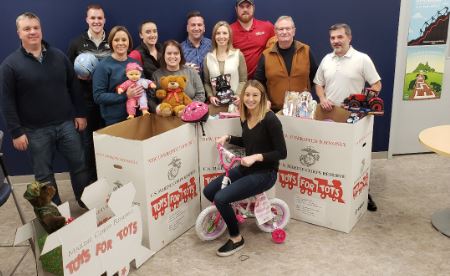 Partnering with local vocational schools and educators to promote the trades as a rewarding career path for students is equally important for our brands, along with working on important community projects.
For example, the hospital sector has been exploding in Florida. Nash has played a role in several large construction projects, including a new patient tower for Horizons West Hospital and new surgery center for South Lake Hospital.
Next Decade of Growth
After a decade of acquisitions and consistent revenue growth, HB Global is poised in 2020 to take the next steps in our mission to create long-term retirement security for current and future generations of employee owners.
To do that, we are focused on expanding our service businesses and field technicians across many of our brands.
This helps drive more organic growth through hiring and investments in our people through leadership and development training. Last year, for example, HB McClure's growing new business development team increased the company's preventive maintenance value by more than 20 percent.
Another key priority in 2020 will be expanding on brand partnerships. For example, a material portion of company growth this year at Nash is expected to come from work at Redstone Arsenal in Alabama and partnering with Hensel Phelps Construction.
Be Part of Our Continued Success
Want to be part of our growing teams at HB Global? Check out the current job openings across our portfolio of employee-owned brands.
HB Global is also actively pursuing mechanical services firms looking to sell.
Our acquisitions team can help your business structure a deal to meet your financial goals and ensure retirement security for your workforce. To learn more about HB Global's ESOP structure and our long-term goals, contact us today.